Feature Story
New DNV Deck Carrier notation supports emerging ship type
페이지 정보
작성자
최고관리자
댓글
0건
조회
102회
작성일

23-02-16 17:11
본문
Climate change and energy uncertainty in the face of political conflict have brought new urgency to the energy transition, and nations around the world are accelerating the planning and construction of onshore and offshore wind farms to replace fossil energy sources. As wind turbines grow in size, specialized ships are needed to transport their huge and heavy components.
Streamlining the classification process for deck carriers
A new ship type has emerged which is better suited to carrying oversized wind turbine parts: deck carriers. Since no existing ship class described these vessels adequately, they had to be classed individually in the past. In response to customer requests, DNV has created a new ship type notation for deck carriers.
"The Deck Carrier ship type notation defines specific requirements for these vessels," explains Jan Rüde, Ship Type Expert MPV, Hull Structure and Outfitting at DNV. "It covers typical features, such as a front deckhouse, a large, open deck space, the absence of a cargo hold, and strong hull and deck reinforcements. There are specific constraints for operation when loaded, such as acceleration limits, maximum wave height and weather conditions." Any additional features, such as dynamic positioning or a semi-submersible design, can be addressed by adding suitable class notations if desired, he adds.


Design features cut building and operating costs
DNV's new Deck Carrier ship type notation clears the way for tackling unique transport challenges in the age of wind power. "On conventional multipurpose vessels, cargo cannot be stacked very high on deck because it will obstruct the line of sight from the bridge in the aft section. This is why the superstructure on a deck carrier is positioned at the front, with the cargo behind it," Rüde points out. "What is more, hatch covers on most MPVs are not strong enough to support the weight of several sets of blades or very heavy windmill components."

Built for oversized wind turbine parts
Wind turbine blades are a commodity nowadays, manufactured in bulk. Ships need to be able to transport them in large numbers to keep the costs of large offshore wind farm projects to a minimum. "Deck carriers are designed specifically for this cargo," says Rüde. "The simplicity of this design makes them relatively inexpensive and easy to load, ensuring fast turnaround in port and lower port and freight costs."
The first vessels bearing DNV's Deck Carrier class sign, BoldWind and BraveWind, are both owned by United Wind Logistics (UWL) and operated by Vestas on long-term charter, primarily between the Vestas rotor blade factory in Nakskov, Denmark, and various European ports or wind farm sites. "These ships use the available space very efficiently," says Capt. Philipp Tietjen, Managing Director at United Engineering Solutions (UES), the sister company of UWL specialized in heavy-lift operations engineering. "Whether jackets, monopiles, tower sections or rotor blades – these ships can carry large items that would not fit into the cargo hold of a conventional multipurpose vessel," Tietjen explains. UES has already done calculations to clear the way for future projects involving next-generation blades 115 to 120 metres in length.

Working hand in hand with class to develop solutions
UES appreciates DNV's cooperative spirit and willingness to walk the extra mile. "In many cases ships must be modified to carry specific project cargo, for example by adding reinforcements to the deck structure or sea-fastening elements on deck," says Tietjen. Working closely with class is essential to make sure all modifications conform to class rules and are safe, he adds. "DNV supports our work. They understand the environment we operate in and are always ready to listen to us and find solutions which make sense."

Small ecological footprint for wind-farm transports
UWL's BoldWind and BraveWind were designed to minimize emissions to keep the lifetime ecological footprint of wind power projects as small as possible. "Both vessels feature diesel-electric propulsion systems for maximum efficiency in response to power demand," explains Daniel Leonhardt, Team Leader Projects & Hydrodynamic Engineering at UES. "The engine room is located right behind the deckhouse, with the exhaust pipes routed through the superstructure. The entire space below deck is available for fuel and ballast tanks. This allows the ship to match the deck level to the loading pier, so cargo can be rolled on and off."
The engines are IMO Tier III-compliant, and the hull is designed to minimize fuel consumption and carbon emissions. Both vessels are prepared for battery installation to ensure compliance with future, stricter IMO decarbonization targets. 
The wide and flat design gives deck carriers high stability, with a very low centre of gravity, while keeping their water resistance low. The limiting factors for the load-carrying capacity are the strength of the blade transport frames and the ability of both the blades and frames to withstand the lateral acceleration forces and wind loads, according to Leonhardt. "At present we can stack up to five layers of onshore blades or three layers of offshore blades before the frames fail," he says. "We anticipate being able to increase the offshore blade stacking height to four soon."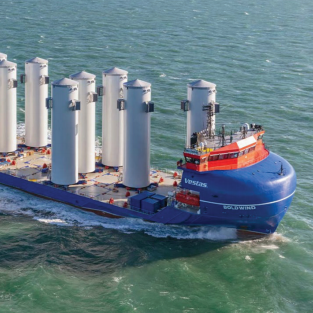 Considering operational limits in the design phase
Wind can make manoeuvring difficult when a deck carrier transports several stacks of wind turbine blades or several tower sections. Therefore, deck carriers are not designed to travel at high speeds and are typically equipped with comparatively low-powered engines. "It is crucial to consider the vessel's operating limits when planning a transport project," stresses Leonhardt. "We perform weather and sea state analyses ahead of each voyage and determine the design accelerations and loads which will act on the cargo and the lashing to establish the operational limits. If the forces are too strong, we will wait for the weather conditions to improve."
Bundling all applicable rules and requirements, the new Deck Carrier notation makes classification much easier, says DNV expert Jan Rüde. "Considering the expected high demand for this ship type, DNV customers will appreciate the clarity these rules provide for newbuilding projects."
■ Source: www.dnv.com